Please see below for our latest news updates.
If you would like to know more about the services we offer please do not hesitate to contact us. Or follow us on Facebook, Twitter and Instragram and visit our LinkedIn and GooglePlus pages for our activity updates.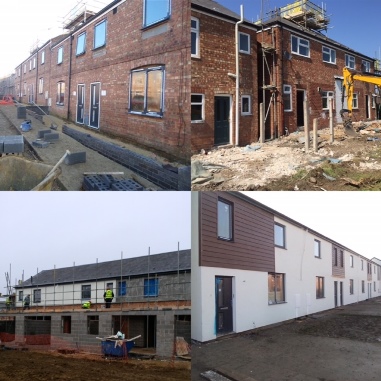 Newfield Road Housing Estate Redevelopment - NKDC
As part of our role as CDM Advisors, we get to see construction projects through from start to end. It is an extremely rewarding process watching as a project goes from the planning and development stages all the way through to practical completion.
We have been, and are currently, involved in an extensive project as CDM Advisors to North Kesteven District Council working alongside D Brown Building Contractors of Spalding. This project is seeing a complete redevelopment and improvement of the Newfield Road Council Estate in Sleaford. Once complete, the £8.9 million scheme will overhaul all houses on the street offering designated off-road parking and improved and extended living spaces with upgraded insulation. The estate will also see 6 of the 70 houses removed opening up space for 18 new homes to be built, for the road to be reconfigured and a new play area to be created.
The new houses being built are planned as six one-bed bungalows, four three-bed houses and eight two-bed houses. The Council's aim is to make the houses easier and more comfortable to live in, to improve the wider environment on the estate, slow vehicles and support a stronger community by introducing a new space for children's play and community activity.
It has now been over a year since the demolition started and the new appearance of the street is beginning to emerge. It has been great to see this project develop and it is looking like the overall finished redevelopment will be a great estate for its residents.
.Published 06/04/2017
Vijay Patel Building De Montfort University Leicester
We are always extremely proud of the work we do at WSP Safety, and when this work is acknowledged by others it makes our hard work all the more worthwhile.
On this note, it gives us great pleasure to announce that the Leicester Civic Society's 2016 New Build Award has been presented to De Montfort University for the recently completed Vijay Patel Building; a project during which we have acted as both Principal Designer and CDM Advisor to the Client, working alongside CPMG Architects Ltd. and Balfour Beatty Construction Ltd.
Beginning in 2014, the construction work saw a redevelopment of the old Fletcher building; a £42 million contract to transform the Fletcher complex and create striking new buildings for the world-renowned schools of Art, Architecture and Design. The Fletcher redevelopment is the centre piece of a £136million project which will provide DMU with one of the finest higher education complexes in the UK.
The award will be presented at the 2016 Civic Society Awards being held on Friday 7th April 2017 by Guest of Honour Michaela Butter MBE, Director of the Attenborough Arts Centre, whose new gallery won the New Build Award last year.
We are proud to have played a part in this extensive project and are extremely pleased with the finished product.
(Photo Credit De Montfort University).
.Published 30/03/2017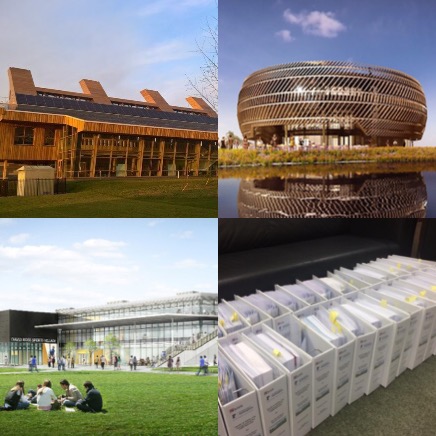 RICS AWARDS 2017
We are extremely proud of the work we have achieved whilst being involved with The University of Nottingham. We have been working with the University for over 20 years and completed numerous large projects with them. It gives us great pleasure to announce that three of the projects we have recently participated in are up for the RICS Awards 2017!
The Ingenuity Centre:
Located on Nottingham University's Jubilee Campus, the Ingenuity Centre has been a project we have been proud to be involved with since 2014.
As Principal Designer during this project, we are extremely pleased that the Centre is shortlisted for the Design through Innovation RICS Award. It doesn't stop there though, it is also shortlisted for a second award in the Commercial category.
David Ross Sports Village:
WSP Safety acted as the Principal Designer Advisor for Kier Construction, the Principal Contractors involved with the David Ross Sports Village. This project was extensive and our involvement started in 2015 and is still on-going. During this time we have compiled the Health and Safety Files for the works: a total of 32 volumes – and there are still more to add!
The Sports Village is also up for two RICS Awards: Design through Innovation and Tourism and Leisure.
GlaxoSmithKline Labs:
We were the CDM Advisors for The University of Nottingham on the recently completed £21.5 million Centre for Sustainable Chemistry. The building is the UK's first carbon neutral science facility and we are proud to have taken a part in its construction process.
This project has been shortlisted in the Design through Innovation RICS Awards category.
Visit the RICS Website to view all the categories and those shortlisted: http://www.rics.org/uk/training-events/awards/rics-awards-east-midlands/
.Published 01/03/2017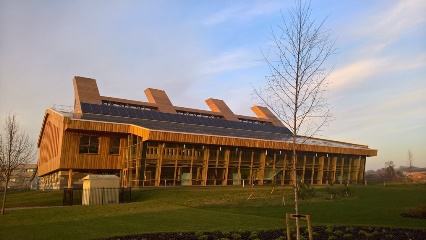 UNIVERSITY OF NOTTINGHAM'S CENTRE FOR SUSTAINABLE CHEMISTRY
WSP Safety were the CDM Advisors for The University of Nottingham on the recently completed £21.5 million Centre for Sustainable Chemistry on the University's award winning Innovation Park. This building is the UK's first carbon neutral science facility.
The design philosophy was to strive to replicate the proposed intent of the 4500m2 laboratory facility; to design and construct a building to be "benign by design" and "clean and green". To this end, the building is constructed predominantly from natural materials and the energy used to run the premises is by renewable sources such as photovoltaic panels and sustainable biomass.
The excess energy generated by the building in carbon credits is expected, within 25 years, to equal the carbon expended in its construction.
Visit us on social media and like/follow us for regular updates.
.Published 03/02/2017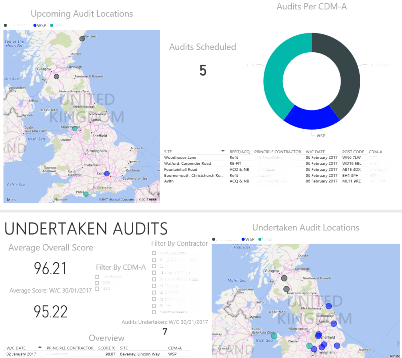 NEW CLIENT DASHBOARDS
It is important to us at WSP Safety Ltd that our clients are kept up-to-date with the progress of their projects. Using Microsoft Power BI we can now provide this data in a more efficient and visually pleasing way. Microsoft Power BI allows us to create reports in an interactive dashboard format. The interactive format provides for more specific data summaries and data insights allowing our client to select the exact areas of their data that interest them. The data insights produced can be in the style of tables, graphs, charts, maps and even simple number calculations and averages.
We have recently developed a weekly report for our client the Co-Op Estates Group enabling them to keep track of the progress of all of their current projects. It is also extremely useful to us as it summarises our weekly activity and encourages a greater, positive output from the team.
If you would like to know more about the services we offer please do not hesitate to contact us. Or follow us on Facebook, Twitter and Instragram and visit our LinkedIn and GooglePlus pages for our activity updates.
.Published 30/01/2017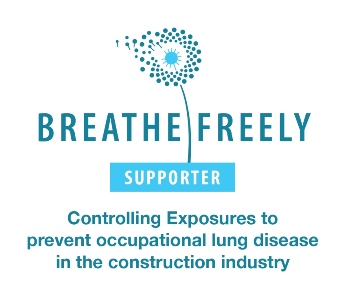 BOHS BREATHE FREELY CAMPAIGN
The British Occupational Health Society (BOHS) are currently running a campaign to help raise awareness of Construction related ill health caused by airborne contaminants; the campaign is called "Breathe Freely". It is a very important that Construction workers are made aware of the dangers posed by certain materials and how they can affect their health.
We are proud to support the Breathe Freely Campaign. We aim to promote the importance of protecting workers respiratory systems with our Clients and their contractor supply chain to collectively help to reduce occupational ill health throughout the Construction Industry.
We are committed to engage with the campaign and highlight the issues to our partners across the construction industry.
WSP Safety Ltd are one of the UK's foremost independent CDM/Construction Health and Safety Consultancies. We co-ordinate and manage all aspects of construction Health & Safety, from project design through to completion.
For more information about the Breathe Freely Campaign, visit: http://www.breathefreely.org.uk/index.html
.Published 24/01/2017